Wearable human-machine interaction device integrated by all-textilebased tactile sensors array via facile cross-stitch
Abstract: Novel HMI devices have shown great potential application in somatosensory games, intelligent robot systems and artificial intelligence, attracting lots of researcher interests. However, the lack of suitable flexible sensors for signal input, reasonable signal processing and feedback schemes extremely restricts practical applications of the novel HMI devices. In this paper, a flexible wearable tactile sensors array based on textiles was prepared. A wearable HMI device was fabricated by setting finger tapings and sound as signal input as well as feedback. The textile based-sensor exhibits a high sensitivity of 0.84 kPa−1, fast response time less than 4 ms, outstanding cycle stability and washability after optimizing sensors configurations and woven structures. Collecting as well as processing of finger tapping data, and sound feedback were realized based on ESP32-DevKitC circuit, Bluetooth module and Android APP. A strategy of predicting signal trend before the maximum tapping value was proposed to reduce the response time of wearable HMI device. In addition, we also made a series of adjustments to the wearable HMI device feedback referring to the characteristics of electronic drums, which fully proved the huge application potential of this wearable HMI device.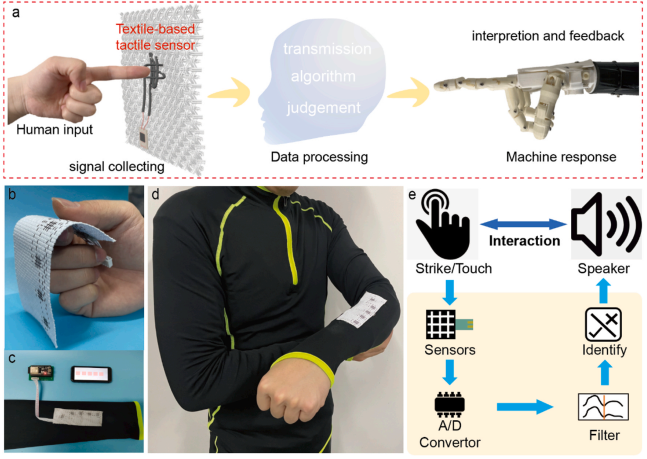 Zhong Weibing, et al. Wearable Human-Machine Interaction Device Integrated by All-Textile-Based Tactile Sensors Array via Facile Cross-Stitch. Sensors and Actuators: A. Physical. 2021.