ALarge-Area, Wearable, Self-Powered Pressure-Temperature Sensor Based on the 3DThermoelectric Spacer Fabric
Abstract:The rapid development of wearable devices puts forward higher requirements formass produced integrated smart systems that incorporate multipleelectriccomponets, such as energy supplying, multi-sensing and communicating. Tsynchronouslyrealize the continuously self-powering, multi-functional sensing, distinguishingof signals from different stimuli, and productively designing and fabricatingof large area sensing array, an all fabric based self-poweredpressuretemperature sensing e-skin was prepared in this study by assembling thehighly flexible and compressible 3D spacer fabric (SF) and the thermoelectricpoly (3,4-ethylenedioxythiophene):poly(styrenesulfonate)(PEDOT:PSS). The all fabric based eskin can efficiently and accurately sensingthe temperature with the detection resolution of 0.1 K and response time of 1s, as well as the pressure within a wide pressure range of 200 Pa -200 kPa andfast response time of 80 ms. The electricity necessary for driving the sensorcan be provided by the temperature difference between the body and environment.Notably, independent voltage and current signals can be generated and read-outunder the simulaneous temperature-pressure stimuli. For the first time a real waistcoatlike e-skin with electricity generating and pressure-temperature sensing functionson the whole area was designed and prepared by a simple and easy to scaleupproduction method. All of these features make the developed all fabricself-powered sensor has very promising applications.
Li Mufang, et al. Large-Area, Wearable, Self-Powered Pressure–Temperature Sensor Based on 3D Thermoelectric Spacer Fabric. ACS sensors, 2020, 5, 2545-2554.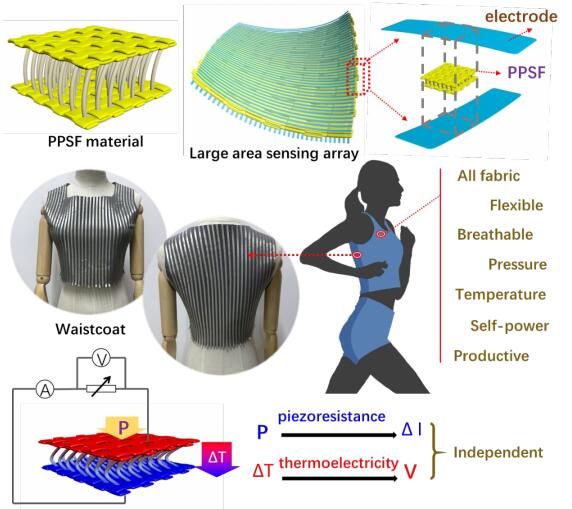 Keywords: Multifunctional e-skin, Pressure-Temperature sensor, Self-powered, 3D
ThermoelectricFabric, Wearable electronics